About Us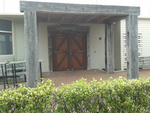 Established in 1971, Gore Town & Country Club officially opened it's doors in 1972 and has been a part of the local community ever since.
Gore Town & Country Club offers a vast range of weekly events and activities to over 1200 members and the wider community. The Club has a fantastic restaurant offering a tasty menu and monthly specials.
Think of Gore Town & Country Club next time you are planning your event. With 3 function rooms hosting up to 999 people; it's the ideal place for your next birthday party, concert or wedding.
Committee Members
President
Mr Robin Stevenson
Vice President
Mr Doug McWhirter
Executive

Mrs Margaret Black
Mrs Jan Campion
Mr Andy Cavanagh
Mr Doug Broome
Mr Brigg Henderson
Mr Ian Sinclair
Mr Russell Stewart
Mr Jason Webb
Secretary / Manager
Mr David Rance
Past Presidents
1970 - 75 B J MacKay
1975 - 77 G M Duncan
1977 - 78 B T McVicar
1978 - 88 W H Esplin
1988 - 97 G M Duncan
1997 - 2001 Mrs C C Anderson
2001 - 09 P L Egan
2009 - present R L Stevenson